The trials and tribulations of crewing and pacing "our runner" at the Bigfoot 200 (Noel)
Our Bigfoot team consisted of "our runner" James Nalley, our tracker Parker Northrup, pacer Jessica Wilkes, crew/pacer Noel Kingston, crew/pacer Carol Northrup, and Carol's blue Toyota Tacoma Dory. This would be James's first 200-mile race as a runner and we were all committed to helping him successfully complete the race. However, this report is not about him – it is from the perspective of his crew and pacers. So as to not to give James too many accolades (his ego is too big already), we will furthermore refer to him as "our runner". The crews and pacers rarely refer to any of the runners by name anyways and simply make comments or ask questions like, "how is your runner doing", "when do you expect your runner to arrive", or "your runner is crushing it"! This report is the product of the vague recollections of Carol Northrup and Noel Kingston and we apologize for any fatigue induced embellishments that are shared with you in our recollection of the adventure.
The crew/pacer plan would play out as follows…
The 209-mile Bigfoot 200 race started on August 13 at 9 am and had a cutoff of 107 hours to end at 8 pm on Wednesday, August 17. Once the race started, we expected to totally be void of cell coverage and basic amenities so we needed to pack and transport everything needed to survive 4 days in the remote Gifford Pinchot National Forest.
Our runner would be fed by the race at aid stations, as would "active pacers," but we needed food for all of the other times that we would be parked/camped/waiting/sleeping/crewing. Jessica Wilkes, a runner from Seattle who knows our runner from working with James at the Moab 240, paced 26 miles in one stretch at the Bigfoot and we will refer to her as "Moab Jessica" in this report.
Our runner had a suitcase with everything that he would need out on the course and the plan was that we would meet him, at crew-accessible Aid Stations (AS) out on the course and not only provide aid but also change out pacers.
All of the Bigfoot runners would be assigned GPS trackers, but they were only useful if we had cell coverage monitoring the race website. Carol and Parker Northrup have an in-reach GPS tracker which allows texting satellite link in remote areas, allowing for communications back and forth with Parker as he provided constant race monitoring from Prescott. Typically for tracking, Parker would give us an ETA on our runner for the next crewed aid station and as our runner got close, he would send us a more definitive ETA. There were times when our runner's tracker was not working and Parker would make estimates based upon the trackers of other runners that were known to be near our runner. Parker has a lot of experience using a GPS tracking device in these races and he was invaluable in making the race a success.
After seeing our runner off at the start, we would make the long 2.5 hour drive in Dory to mile 30 on the course to the first crew-accessible aid station at Windy Ridge Aid Station (AS). After crewing our runner at Windy Ridge, we would have several hours before meeting our runner at Norway Pass AS since he had approximately 30 miles to run. Moab Jessica would join our runner from Norway Pass to Elk Pass, and then to Rd 9327 (aka Rd 90210). Carol would pick our runner up at Rd 90210 (91 miles into the race), and from there to the finish, Carol and Noel would leapfrog down the course, trading crewing and pacing duties for the next 120 miles. When not running/pacing, they would drive on rough, windy–sometimes treacherous–mountain backroads to the next aid station, set up the crew station, check in with Parker for the latest ETA, and wait … and wait. Sleep would have to be done in snatches in the truck cab, or on the ground in a sleeping bag. Meals were also grabbed on the go–ramen, bagels, bananas, oatmeal and the occasional dehydrated backpacker meal.
We had a solid plan through 180 miles … the last two segments–16ish miles from Twin Sisters to Owen's Creek and 13 miles from Owen's Creek to the finish were up in the air, depending on how everyone was feeling at that point.
When it was all said and done, Jessica would run nearly 27 miles with our runner, Noel would run 76 miles, and Carol would run 50 miles. In between, Noel and Carol would drive a couple hundred miles on forest service roads.It was a solid plan, with plenty of flexibility built in … and plenty of moving parts … piece of cake!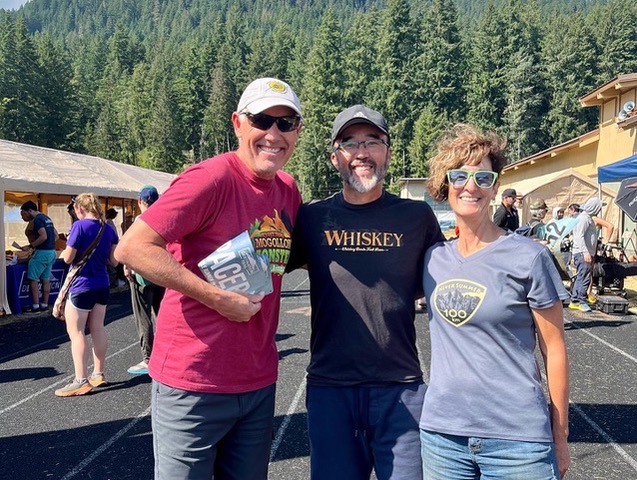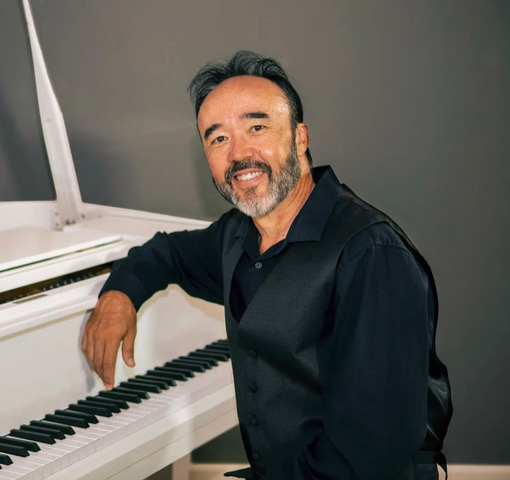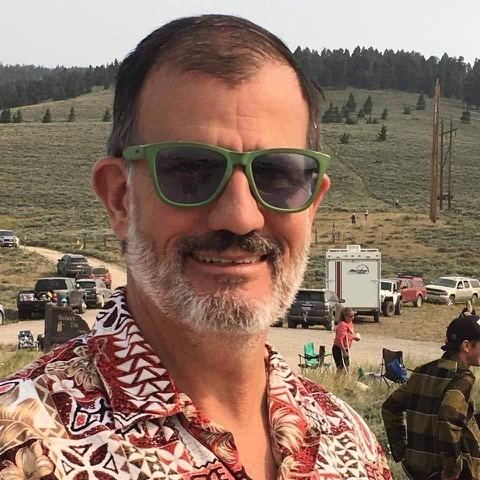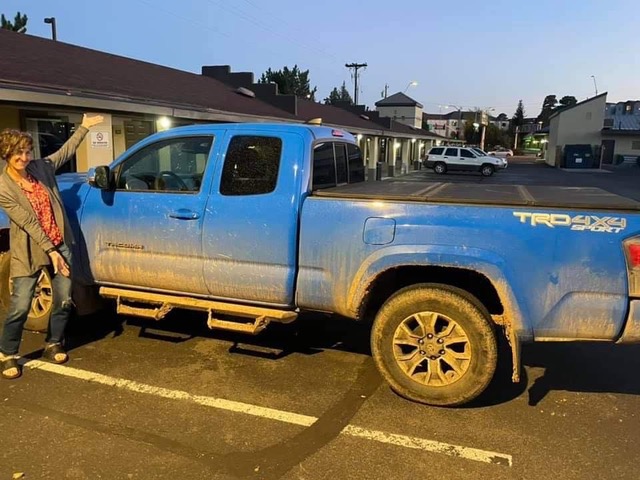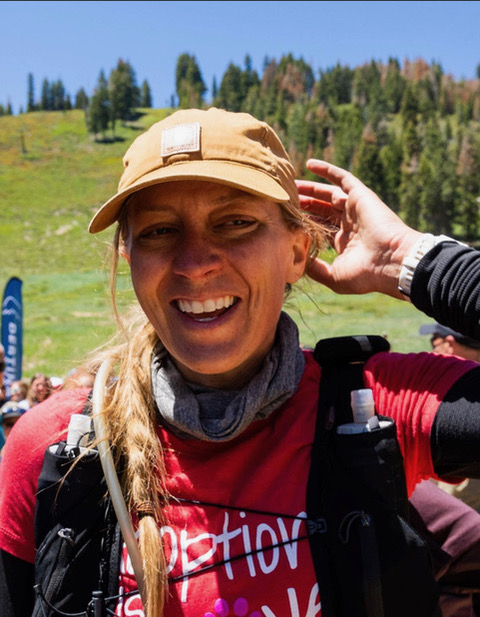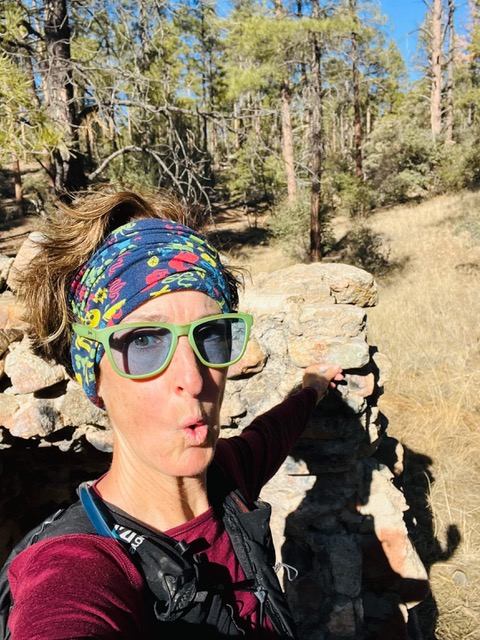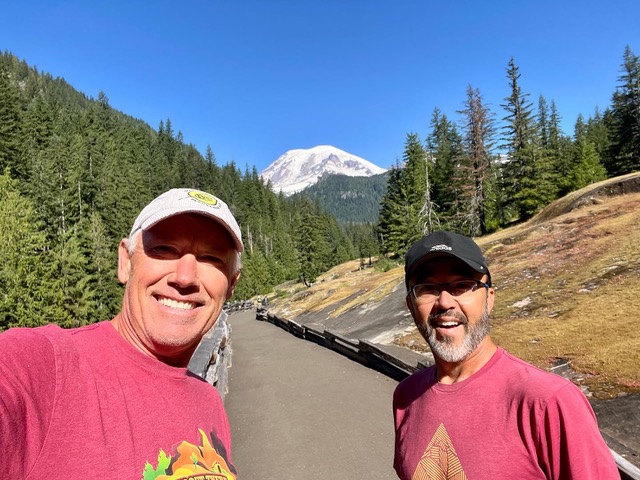 Day One (Carol)
With a race start at 0900 that was 2 ½ hours away, we all had an early wake up. Our runner rode a bus from the finish line to the start and was out of the VRBO by 0430, and Noel and I were up and chugging coffee by 0500. No one slept well the night before … no one expected to—race nerves had everyone jittery and ready to just freaking get started.
After a few cups of strong coffee, a good breakfast, and gassing up Dory, we hit the road for the starting line at Marble Mountain Sno Park a couple hours away. The road to the start was paved, but it was no joke—one of the windiest mountain roads I've ever driven … and I grew up in Colorado!
We found our runner pretty quickly at the start line. Aftersome obligatory snaps with Big Foot himself (herself?) and our runner, Noel and I headed up the course a ways to get some video footage of the mass start. We saw our runner come by and gave him a big shout out to send him off (we forgot the cowbell!)
After seeing our runner on his way, Noel and I got to work. Our runner would run ~30 miles before we saw him … we figured we had 6-7 hours—plenty of time—but we still needed to test out our comms w/Parker and Jessica to make sure we could get updates on our runner's location. We had to drive up the road a few miles to find a spot w/a little bit of cell service so we could pull over and set things up. This is something we REALLY should have squared away before race day–BUT … after a few false starts, we got everyone up on the net and were able to send text messages via my Garmin InReach.
Once we had good comms, we had to hook up with Jessica—who was still in Seattle—to work out a plan to shuttle her Sprinter van from Norway Pass AS (where she would start pacing our runner) to Rd 9327 AS where she would finish pacing and need to head back home. The plan was for one of us (Noel) to drive her Sprinter down those winding, rutted roads to meet her at 9237 AS the next day.
Once we had those logistics squared away, we headed to Windy Ridge AS—our first rendezvous w/our runner at mile 30. On the way, we stopped to top off the gas tank at a seriously old-school gas station (analog meter, no "pay at the pump")—there were very few opportunities for gas on the course, and we decided to fill up at every opportunity … a good decision. We also took the opportunity to use an actual toilet–which would be in scarce supply over the next few days—and to buy a few more snacks … ultra running is ALL about the snacks.
The drive to Windy Ridge was a little slow and winding, but not terrible. We stopped at a gorgeous viewpoint to read a little bit about Mt St Helen's and Mt Baker and to take some pictures. These mountains were beautiful, and very different from our Arizona ones! We got to the aptly-named Windy Ridge AS a couple hours before we expected our runner and took the time to hike ~380 stairs up to a beautiful view of Spirit Lake and then to take a short nap.
In addition to snacks, sleeping bags and plenty of running gear, we had beer in the cooler … settling in to wait for our runner's late afternoon arrival seemed like the perfect time to crack one open. Except we forgot to bring a bottle opener (actually, I'm the one who forgot)! The crew next to us was in a truck camper, and I knocked on the door and offered a free beer in exchange for the use of a bottle opener. Just my luck, the crew in question did not drink beer! Fortunately, they were hanging out with another crew who had a bottle opener on his key chain (I need to invest in one of those) … catastrophe averted. And–btw–the camper crew turned out to include Michael McKnight—multiple-time winner of Big Foot 200 (and course record holder), Tahoe 200, Moab 240 and 2d place at COCODONA 250 this year. He was there crewing Jovica Spajic–the winner of this year's race.
Parker predicted our runner's arrival within less than 10 minutes—he's a Jedi master—we were ready as our runner came in. He sat down, ate a burger & some watermelon, drank a few cups of coke, changed his shoes, and was out … 7 hours of driving, prep and waiting, and he was in and out in less than 15 minutes.
We had another 9-10 hours before we expected our runner to arrive at Norway Pass AS—mile 65; 35 hard miles away. We fired up the electric kettle—after several tries and a few texts to Parker (turns out the power outlet in the back of Dory actually has to be turned "on" to work), and re-hydrated some backpacking meals for dinner … Noel and I agreed that whomever said that each package served 2 had never actually been backpacking, or trail running.
After stuffing our faces, we decided to stay at Windy Ridge to get some sleep. It was a large, paved parking lot with plenty of parking, a restroom and we even had a little bit of cell service. Norway Pass AS was only about an hour away with limited parking and no luxuries like toilets or cell service. Even though I had brought a tent and a sleeping bag & pad, I decided to just hunker down in Dory to sleep—this ended up being my M.O. for the entire race … digging out and setting up the tent just seemed like wasted sleep time. Noel laid out his sleep pad and bag on the pavement next to Dory and we crashed for a couple hours. Until the fog came in and soaked everything—including Noel & his sleeping bag. Once we were up, we decided to check in with Parker on our runner's ETA. Even though it was the middle of the night—about 0200, Parker worked his magic to give us a solid ETA and we headed to Norway Pass.
Norway Pass AS was at the end of a narrow dirt road with very limited parking … the closest we could get was a bout ¼ mile down the road. The temperature had dropped significantly during the night, and it was about 40 degrees and wet—everyone was shivering. Once we got into the aid station, we found Jessica—she had scored a sweet parking spot right next to the runner arrival point–and we waited with her for our runner to arrive.
After hanging out w/Jessica for about 45 min, our runner came in– within a few minutes of Parker's prediction. He was tired, but in good spirits. He ate, drank, put on some warm clothes, and regaled us with stories of his harrowing exploits on the trail and then we sent him back out for the next 11-mile leg—this time with Jessica to keep him company. Total time was about 35 minutes.
Noel managed to back Jessica's Sprinter van out of the crowded AS parking area and down the narrow, crew-vehicle-lined road back to the pavement. I was REALLY glad I didn't have to drive that behemoth down those curvy mountain roads! The next stop was Elk Pass AS (mile 76) which was only 20 minutes away. We arrived without incident (though I was dangerously close to falling asleep at the wheel by the time we arrived) and parked right across the road from the runner area. I crashed in Dory and Noel slept in the relative luxury of a bed in the van.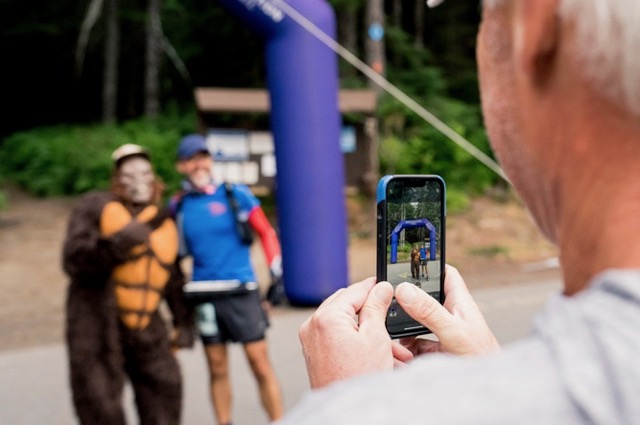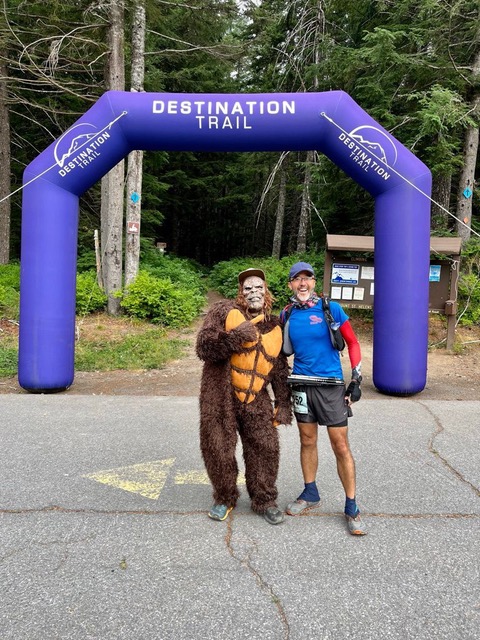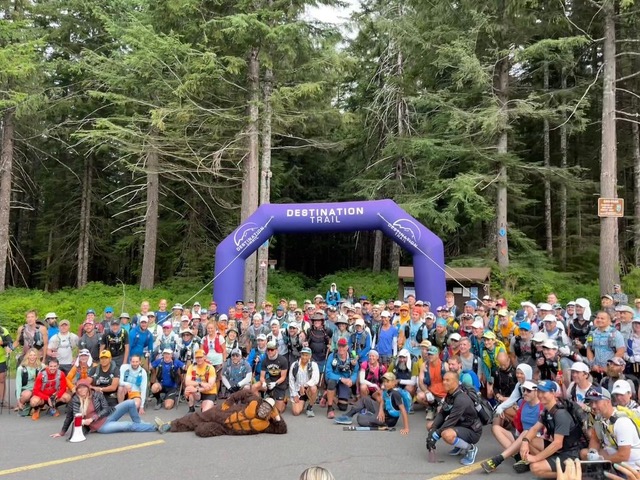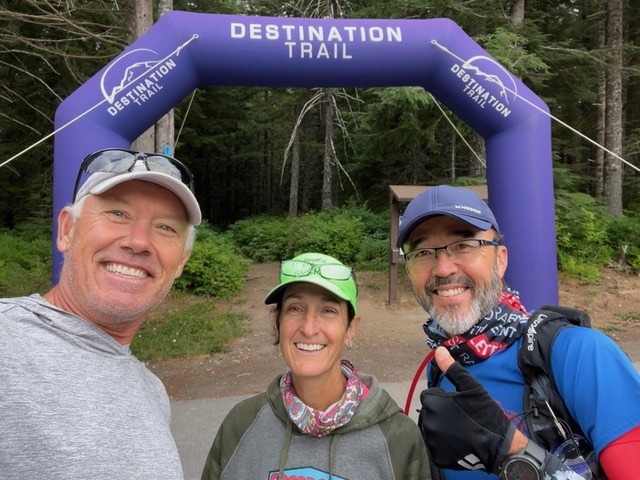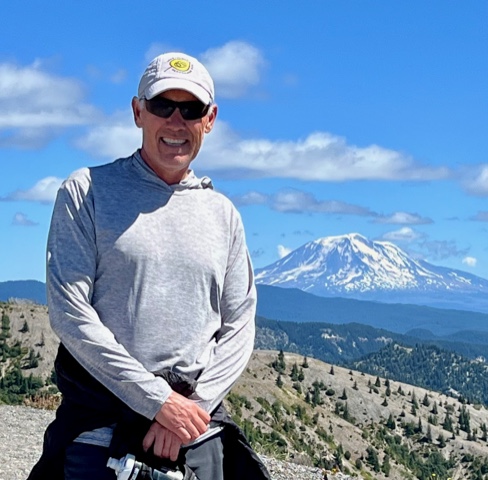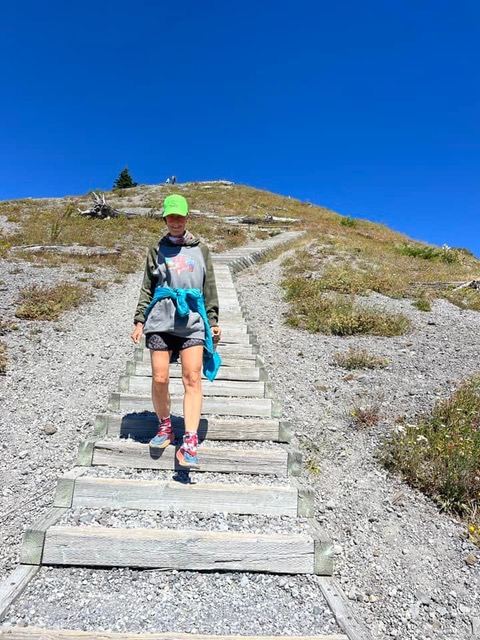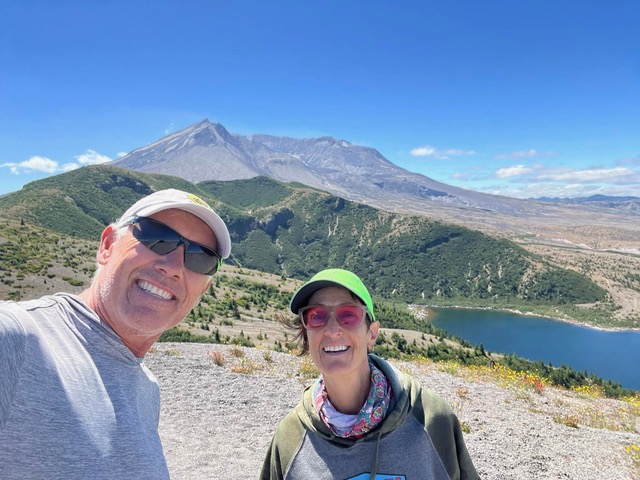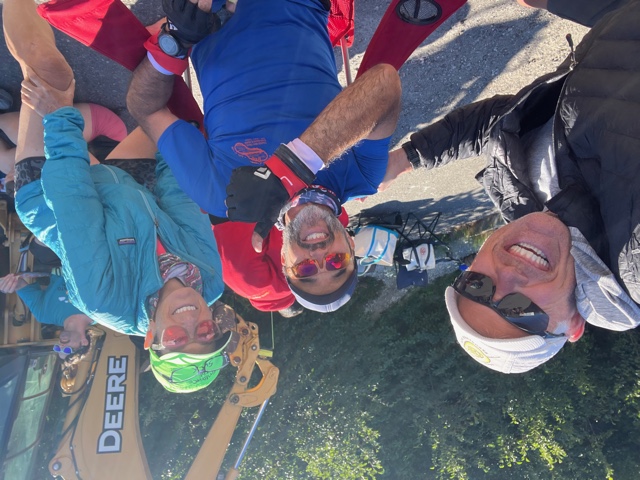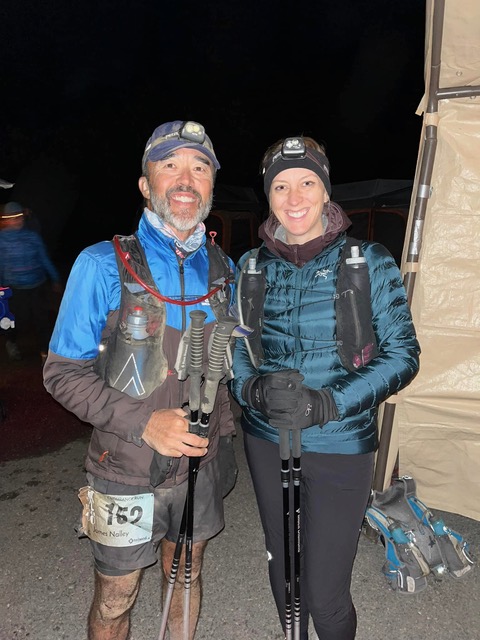 Day Two (Noel)
We got in a couple hours of sleep before we had to rouse ourselves to check in w/Parker and prep for Our Runner and Jessica's arrival. The bugs weren't too bad (I thought they were bad, but that's just b/c I didn't know how ferocious they would be later), and we managed some instant coffee & oatmeal for breakfast. The runners were getting burgers, breakfast burritos and hash browns … it was hard not to be jealous! After about an hour, Our Runner and Jessica arrived and took about 30 minutes to fuel, hydrate and rest before they were back on the trail to Rd 9237—aka 90210 AS (mile 91) 15 miles away … estimated time enroute ~ 7 hours.
Due to the remote nature of this course, there were very few toilets, or even porta potties … the aid stations had contraptions called "Lugaloos" … consisting of a 5-gallon bucket with a liner placed inside a very small pop-up tent. They are very uncomfortable to use, and—as you can imagine—get more than a little gross by the time it's all said and done. But … you do what you gotta do. Before we packed up to leave, I made my way to the Lugaloo and took care of business. Just as I come out and we get ready to head to the next aid station, Noel says he remembers a Forest Service Restroom about 10 min back up the road … grrr … so much for being efficient!
After a short break at the restrooms, we made the trek to 90210 AS … once again, parking was tight—especially with a Sprinter van AND a truck … we parked a couple hundred yds down the road and settled into wait. Our Runner had not yet slept, and—based on updates Parker was providing, he was slowing considerably. He was planning to sleep at this station, and we spent some of our several-hour waiting time scoping out sleep possibilities: the race-provided tents and sleep pads—hot, and noisy, but close, OR walk back down the road to our vehicles and sleep in the shade.
Once Our Runner made it in, we got him fed and hydrated and put him to bed … he opted for the close, race-provided tent w/a crew-provided eye shade. He slept for 90 minutes and was up and ready to go. This was my first pacing stint—about 19 miles … it would cover 2 legs, since there was no crew / pacer swap-out at Spencer Butte AS. After about 2 hours at 90210, Our Runner and I headed out with promises to take a selfie at the half-way point (~104.5) and to snap a photo of Bigfoot if we saw him.
We headed out of the aid station at about 5pm, and though it wasn't hot, it was a clear, sunny day. As soon as we stepped into the forest it seemed like it instantly became dusk. The trees were so tall and thick that it felt like the sun was going down, or it was a cloudy day. I kept looking straight up to verify that the sky was, still bright blue and the sun was several hours from setting.
Our Runner was moving well. He led the way and was doing a great job of jogging the downhills and power hiking the ups. We alternated comfortably between chatting and quiet running. Pacing can be tricky—you don't want to prattle, but sometimes, talking can take energy your runner doesn't have. It can be hard at times to tell if they want you to carry the conversation or if they want to be distracted by talking. For the first 10 miles or so of this section, Our Runner seemed to be doing fine and was easily engaging in conversation.
The sun was just starting to set when we came into Spencer Butte—11.8 miles later. This was a full-service aid station, complete with cheeseburgers! I had been craving a cheeseburger since Windy Ridge, and mentally planning mine since about an hour after we left 90210. As soon as I got Our Runner's order in, and got him situated, I ordered mine … it was in the top 10 best cheeseburgers I've ever had!
We didn't dally here and, since I had prioritized the cheeseburger, I did not have enough time to use the Lugaloo before Our Runner was ready to leave (and the cardinal rule of pacing is to NEVER make your runner wait for you). No biggie–I'd drop back behind a bush once we hit the trail and catch up (fairly easy to do since Our Runner had over 100 miles on his legs at this point and I had less than 15).
The next section was only 7.6 miles, and we started at a good clip down a relatively level dirt road. Usually, as a pacer, you let the runner set the pace and follow behind, checking the course and keeping your runner company (contrary to the title, "pacer" is really just a slightly cooler term for "safety runner"). Sometimes, however—especially if your runner is really tired, or just grumpy—they will want you to take the lead, so that they don't have to think about the pace or where to go and can just follow along on autopilot. When we turned off the road onto the trail (and plenty of cover for a potty break), Our Runner asked me to take the lead to the next aid station so that he could take a bit of a mental break. So much for my potty break. Suffice it to say, I was REALLY happy to see the porta potties at Lewis River nearly 2 hours later!
Meanwhile, back at the ranch where Parker was tracking Our Runner, shortly after I left 90210 comms w/Noel went dark … Noel appeared to be non-responsive, not replying to Parker's messages. After an hour or so of trouble-shooting, Parker discovered that the subscription plan we had with Garmin only allowed for 30 messages per month—which we had exceeded … Parker's texts were not going through! Fortunately the fix was easy and took effect immediately … Noel and I didn't even know there had been a problem until the race was over!
Noel met us at Lewis River AS (110 miles) just after midnight, and after some food, hydration refills and "double-digit-midget" photos (under 100 miles left), he and Our Runner headed out into the night.
I made my way back to Dory and after eating a delicious piece of fry bread left in the passenger seat that I chose to assume was intentionally left for me by Noel, I headed out for Quartz Ridge AS. Noel and Our Runner had 17 gnarly miles with nearly 7500' of elevation gain, so it was going to take a few hours, and the drive was supposed to be only 45 min away. However, driving no-name backroads in the dead of night isn't really my specialty, so I wanted to give myself plenty of time to get to the aid station and get the lay of the land before I grabbed some sleep.
That turned out to be a good plan, because I got lost on the way there … twice. Directions that tell me to turn on "NFD 96" are of limited use with no signs telling me if this road is NFD 96 or not! Thank goodness for my trail navigation app—I was able to use it to help me find my way. Quartz Ridge was another aid station with no parking at the aid station and limited roadside parking along the road leading up to it. I found a spot not too far away and texted Parker for an update on our runner and Noel, hoping for an ETA at least 5 hours away so I could 3-4 hours of sleep in Dory before hauling Our Runner's bag and gear down and setting things up for his arrival.
Parker's response to my query: "Bad news—Our Runner's tracker isn't working … no updates since Lewis River." Crap! Now what? I asked Parker to check on another runner who I had seen leave just before Our Runner (as crew and pacers, you often see the same runners on the course and at aid stations)—maybe we could follow his progress to give us at least a vague ETA. We were in luck—the Other Runner's tracker seemed to be working. It appeared I was going to be able to get a couple hours of sleep before needing to head up to the aid station to get set up for Our Runner's arrival.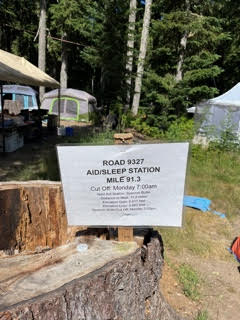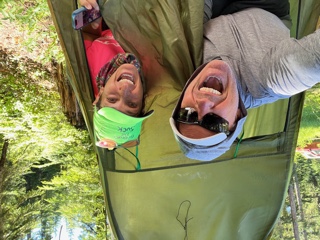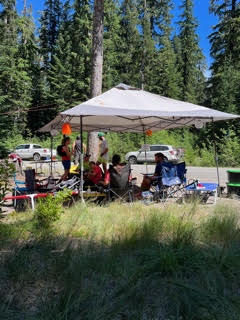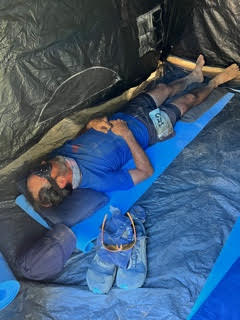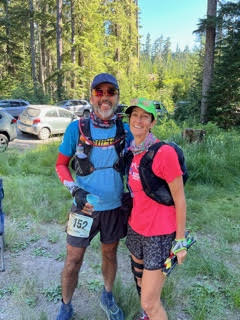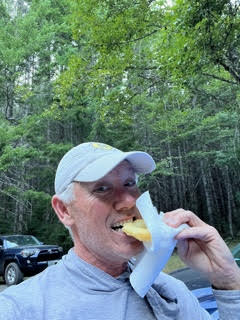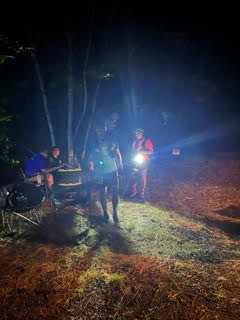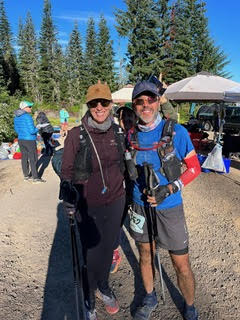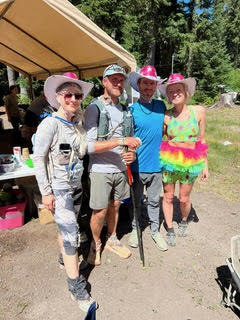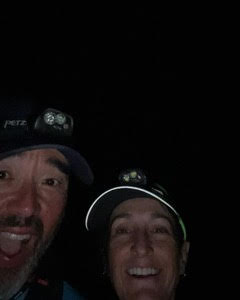 Day Three (Noel)
I left the Rd 90210 AS at approximately 4:30 pm on Monday afternoon and Carol left to pace our runner 11.2 miles through Spencer Butte AS (no crew allowed) and then another 7.6 miles to the Lewis River AS. I drove 16 miles (45 minutes) to the Lewis River AS to exchange duties later that evening with Carol. My assignment was to take over the pacing duties and try to hang with our runner from the Lewis River AS to the Quartz Ridge AS.
The Lewis River AS was a "no crew" point but we would be allowed to exchange pacers. I was not sure if I would even be allowed to park near the aid station but after arriving, I was assured that I could park and wait until my team arrived. I must admit that I was a little bit intimidated by my upcoming course segments. This first one for me would be 17.2 miles with 7347ft of ascent and 4522ft of descent. The race manual describes this segment as, "Deep, dark, dank Pacific Northwest trail running at its best. Run along the Quartz Creek with LOTS of hidden elevation with roller coaster hills. Topo maps do not portray the constant ups and downs in this area. Steep climb out of Quartz Creek to meet back up with the Boundary Trail. Dry ridge up high leading to a descent to the next aid."
After arriving at Lewis River my plan was to eat and sleep; easier said than done. My meal consisted of rehydrated mashed potatoes mixed with a dried cheese packet and canned chicken – yum! As I was fixing my meal in the parking area, the crew next to me was preparing their meal – fresh stew and homemade fry bread. I think that they felt sorry for me because they graciously invited me over to share their food. Since I had already eaten my fine meal, I excitedly just took a couple of pieces of fry bread. I ate one of the pieces and then I put the other in a Ziplock bag to eat after pacing. I should have known that this piece of frybread would be gone once it was discovered in the truck - you are welcome, Carol!
Sleep was difficult and I finally gave up and got ready for my evening of pacing. Carol and our runner arrived at the AS at approximately 11:30 pm looking strong and ready for a burger! We were quickly up and out of the aid station and on our way to the Quartz Creek AS. We quickly entered a canyon with a creek running below but it was so dark and the canyon so deep and steep that it was hard to discern the environment in which we traveled. We arrived at a junction after a couple of miles and a runner was stopped there and confused about where to go. I assured the confused runner that I knew which way to go and to follow us if he wanted to. After some conversation, our new friend disclosed that he was a veteran of 200-mile races and that his strategy in these long distances is NOT to sleep at all. The runner's name was Aaron and we quickly dubbed him "No sleep Aaron - NSA". NSA hung with us for a little while but then we soon left him behind and even passed a group of runners/pacers in the bottom of the valley as we crossed a creek. This section was very challenging as we were always going up or down and there was very little level trail to ease our efforts. The sky was starting to lighten and I was noticing on my watch that we still had a considerable amount of climbing left in the section as the remaining mileage diminished. I realized at this point that it was important for me to prepare our runner for the approaching climb. I basically said, "we still have a lot of climbing left before the aid station so let's prepare ourselves mentally and just accept the challenge." The rest of the segment did in fact have a huge climb but we locked in the hubs, shifted into low 4 and climbed out of the canyon as the sun rose in the east. We gave high fives at the top of the canyon but my watch still indicated more climbing for the next few miles and then a 2-mile descent into Quartz Creek AS.
Luckily, we had the mosquitos and biting flies to distract us from the steep climb on the shitty motorcycle trail that was our current route. This was the worst section of the course for insects and it helped motivate us to move as quickly as possible to avoid getting eaten alive.
We arrived at the Quartz Creek AS at approximately 8:00 am on Monday morning. It had taken us 8 hours to go 17.2 miles which isn't too bad for the amount of climbing that we did. We ate some huge breakfast burritos, I doused myself in Deet, and off we went to the next section concluding at the Chain of Lakes AS. The runner's manual described this section as, "16.2 miles with 3846ft of ascent and 4015ft of descent. 1.8 miles from new Quartz Ridge aid back to the boundary trail #1 and then another 8.6 miles until you hit road. Short climb and descent over Council Bluff with an incredible view of Mt. Adams and Council Lake, the descent will take you to Council Lake, a fantastic swimming hole. Another short climb and descent over Babyshoe Ridge to take you to a two-mile paved section. Back on singletrack for a few more miles to end up at Chain of Lakes." Sounds like an easy section but the day was starting to heat up and this section would test both the pacer and runner. It would ultimately take us 6.5 hours to cover this section and we arrived at chain of lakes around 2:30 pm.
Things I remember about this section… using a real toilet at a campground after descending Council Bluff, having a romantic picnic of PB&J sandwiches with my runner on the banks of Council Lake, almost getting off course at a poorly marked road intersection (another runner noticed the mistake and kept us on the right course), picking small strawberries from plants along the paved section of road, and generally being a PPP near the end of this segment. What is PPP you ask? Why it stands for Piss Poor Pacer! In our descent down Council Bluff, I was ahead of my runner, trying to keep him moving by playing cat and mouse. What I didn't realize was that he was having a tough time mentally and I should have been by his side with him, helping him work through the low spell. To be honest, I thought that my runner was infallible and indestructible and I didn't know that he was even human. 200 miles with little or no sleep is tough, even for the toughest runners that we know. Sorry about being a PPP buddy and I hope that you know it wasn't intentional. Glad though that we made it to Chain of Lakes for a burger, rest and a regroup.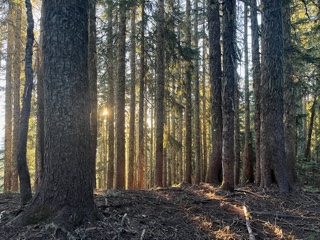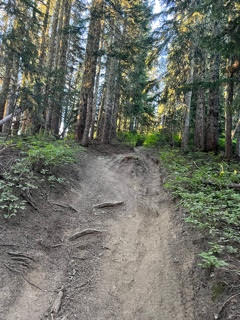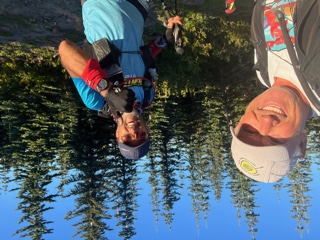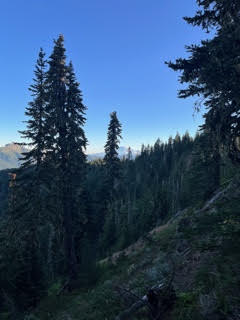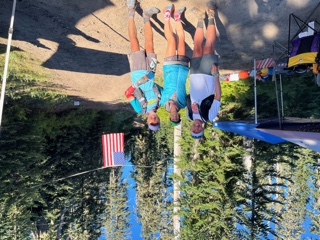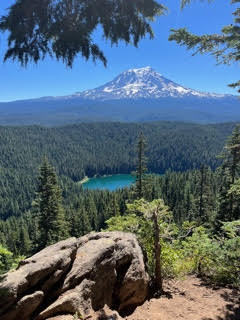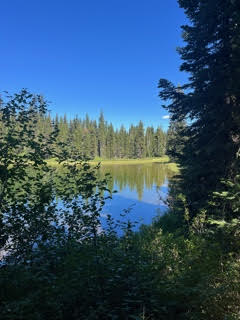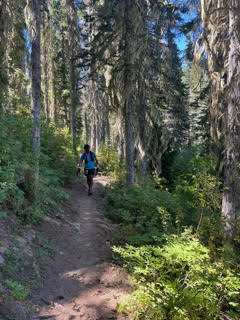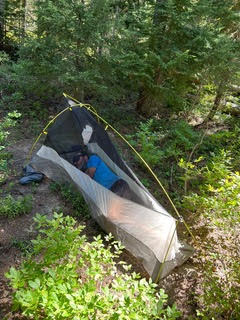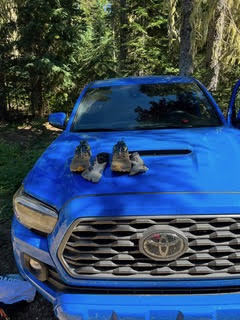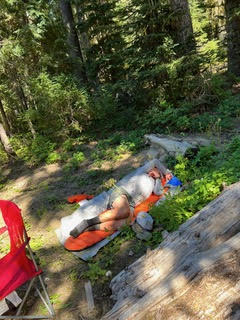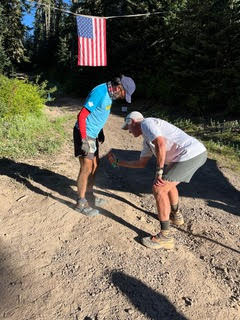 Day 3-4 (Carol)
While Our Runner and Noel slept in the shade near Dory at Chain Of Lakes, I prepped for my next pacing segment, getting my gear & fuel ready and psyching myself up for the water crossings. I've taken a few scary falls in fast-moving creeks before and I didn't want to embarrass myself in front of Our Runner … and I REALLY didn't want to get washed down a creek in the dark.
Just before 5pm, we slathered ourselves w/bug spray and headed out for the 18-mile segment. Our Runner was in a good mood after his nap, and we were moving pretty quickly … but not quickly enough to evade the clouds of mosquitoes! They were everywhere—the bug spray (and supplemental wipes I'd brought along in my pack) seemed to be keeping them from biting, but they surrounded us as we moved & got in our eyes, nose and mouth. Movement was the best defense … hopefully at dark they would dissipate.
We came to the first water crossing a couple hours into the segment. Though the water was moving pretty fast, & looked to be about knee deep, there was a log bridge for us to walk across. Water crossing #2 was only a few feet wide and we were able to rock hop across and keep our feet dry. Crossing #3 was shortly after dark—a little dicey, but not a big deal—whew … I had survived all 4 without embarrassing myself or dying—Yay!
Sometime after true darkness set in, we started to hear water again … big, fast-moving water … uh-oh. Though at first the trail seemed to parallel the stream / river, after a while, it turned and led us right to the bank of, what sounded like a BIG, DEEP river … as we stood there trying to decide if we had gotten off course (denial is a beautiful thing), 2 other runners caught up to us and agreed that there was no way we were supposed to cross here … it was 10-15 yds across, and though it was dark and we could not see how deep it was (that was the truly scary part to me), a river this wide was bound to be deep. Just as we collectively decided we were in the wrong place, yet another runner joined us. He pointed out the course marker waaay over on the other side of the water … and then he just waded in! He made it across in less than a minute, and the rest of us decided that maybe we could make it too. Turned out to be a very wide, but not terribly deep (just over knee deep on me) creek … the water was moving pretty fast, but the rocks were stable and we all made it across without incident (besides numb feet/toes from the icy water).
Other memorable things about this section were:
The four-mile climb to the base of Elk Mountain … one runner reported 16 false summits (I did not count them, but Our Runner did ask me at least 10 times if we were there yet).
Our Runner weaving down the trail in exhaustion … after nearly falling, he agreed to a 10 min trail nap.
The .25 mile climb straight up to the summit of Elk Mtn … another instance in which I was a little worried about embarrassing myself or possibly dying. The views from the top were probably breathtaking in daytime … kudos to the intrepid photographer waiting in the dark (in a sleeping bag) at the top to take photos!
Just as I started to get cold, we saw the lights of the aid station and heard Noel cheering us in. Once we stopped, both Our Runner and I started to get cold. Our Runner had decided that he was going to take a 30-40 min nap and didn't waste any time wolfing down food (sloppy joes and brisket—no cheeseburgers!) and settling down in a chair wrapped in a blanket for his nap.
Since Our Runner was in capable hands, and I was also seriously ready for some sleep, I headed to Dory to warm up and figure out how to get to Twin Sisters' AS. It turned out that the drive was going to take over 2 hours. Though I preferred to get to the aid station before sleeping, I didn't think I could make it that long w/out sleep. Noel and Our Runner had 20 miles which should give me time for 3-4 hours of sleep before making the drive. I drove Dory just far enough to be out of the way of the aid station, and pulled her off the side of the road to sleep.
I got a solid couple hours of sleep before the sun came up and I needed to check in w/Parker and see how Our Runner was doing. According to Parker, I still had several hours until Our Runner was due into Twin Sisters, so I took some time to heat water and have some breakfast and a couple cups of coffee before heading out. After several slow miles on rough dirt roads, I finally hit pavement—yaay! It felt good to finally be able to drive more than 5-6 mph. Too good apparently … I was about 5 miles into my pavement stretch before I got pulled over by a county Sherrif's deputy—YGBKM! Fortunately, going 68mph in a 55mph zone only earned me a warning.
Once off the pavement, the views were spectacular, but the roads were treacherous … I was glad we had decided that Our Runner was going to run the next section solo—it would be nice to have a second set of eyes to look out for on-coming traffic and drop-offs!
I finally made it to the parking area for the aid station—whew! Plenty of time to grab the gear and walk the ½ mile to the aid station: bug spray—check, crew book—check, mini-cooler—check, Our Runner's drop bag—SH**!! I left it at Klickitat—over TWO HOURS away!! I start digging through all my gear for anything he might need—dry shirt, socks, extra gels & snacks, shit, shit, shit … I can't believe I did that! Hopefully Noel and Our Runner realized it before they left—the only thing worse than having crew forget your stuff is to be surprised by crew forgetting your stuff.
When I get into the aid station, I'm scoping things out for Our Runner's arrival … hoping this AS has a few extra supplies "just in case." I say to one of the volunteers, "so I forgot my runner's drop bag …" he immediately responds, "Seriously?! You had ONE job!" Yeah … thanks buddy.
Fortunately, Our Runner and Noel figured out what I'd done before they even left Klickitat and arranged for Our Runner's bag (and the chair I also forgot) to be sent to the finish line. Our Runner was very gracious and did not fire me on the spot … he would skip his planned sock change (for some reason he declined the use of my dirty socks) and make do with snacks from the aid station and my leftovers.
Our Runner and Noel had also decided that Noel would stay with Our Runner for the next 16-mile segment and I would run the last 13 miles to the finish with Our Runner. Though I was bummed about another solo drive on those crappy roads, I was honored that I was going to be able to run Our Runner into the finish. One more 17-mile / 2-hour drive to Owen's Creek AS … hopefully, I could redeem myself on the run to the finish line!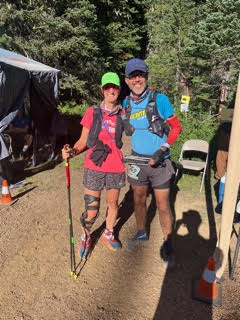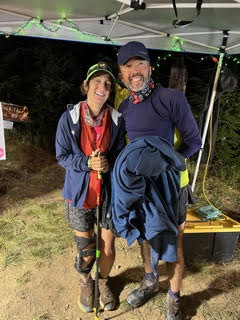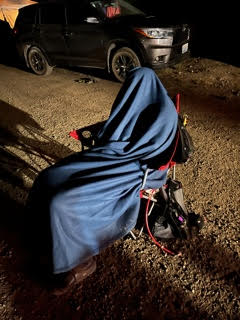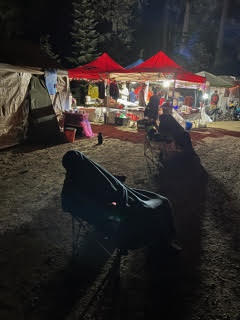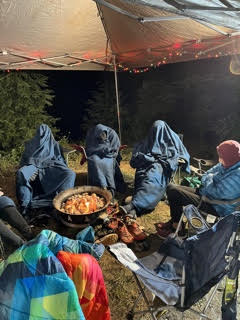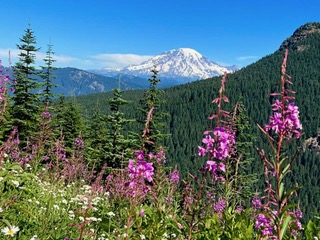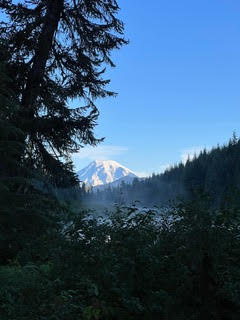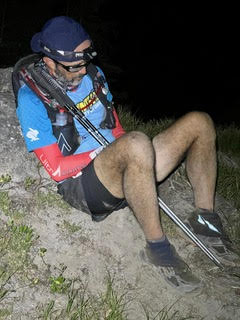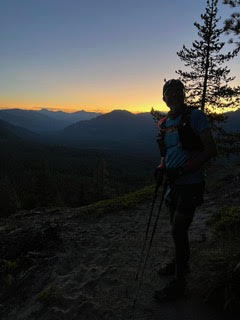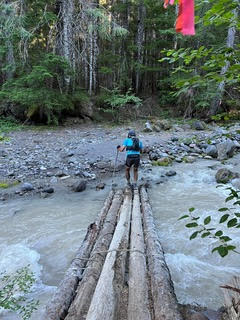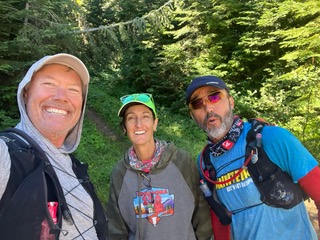 Final Day (Noel)
This is it – our adventure is coming to an end…
It is strange when you quit pacing and then you are left with the responsibility of having to navigate and drive to the next aid station in a fatigued state. After I saw Carol and our runner off at Chain of Lakes, I was by myself and it was time to figure out how to get to the next aid station. Not only were the roads numerous, windy and narrow, they were poorly marked. There was no cell coverage and we did not have paper maps, so I used the driving directions from the Bigfoot Runner's manual and my Gaia GPS app to try and figure out where to go. I started down the only road that I saw but quickly realized that there had been another turn that I had missed and now I was not sure about my next move. I pulled over and flagged a vehicle that was coming from the direction of the last AS. The vehicle pulled over and with the help of two friendly French women, I was able to figure out where I was and where I had to go.
I had my bearings on the route and decided to make a side trip to Packwood to get some fuel for Dory - she was getting thirsty! After fueling, I made it to Klickitat at approximately 10pm. I wolfed down a convenience store sandwich and tried to get some sleep. I am 6'2" and I have to tell you that trying to sleep in the driver's seat of a Tacoma is not easy. I quickly gave up and decided to get ready for my pacing duties and head up to the Aid Station.
Our runner was doing very well in the race and was ahead of the mid-packers. Generally parking was available fairly close to the aid stations and this was true at Klickitat. With my runner's crew bag I headed up to the AS. I love the whole ultra-scene so hanging out and helping runners was so much fun and I didn't mind waiting for my team.
The aid station folks were great to the runners and crew and you could tell that they were very experienced in their craft. This AS was not supposed to be a sleep station but there were many runners either laying on cots in the medical tents or simply sleeping in chairs around the gas fire pits. It was getting chilly so the runners covered their entire bodies with the blanket and as Carol previously mentioned, they did look like dementors from Harry Potter.
It was just after 2 am when Carol and our runner arrived at the AS. They looked tired so Carol headed out to Dory to get some rest and our runner decided to get 30 minutes of dementor sleep before we were to head out on the next section. I checked my watch and mentally notated a 2:45 am wake up. I hung out like a ultra groupie (I am), had some yummy brisket, and prepared my runner's gear for the trek to Twin Sisters.
The runner's manual describes this section from Klickitat to Twin Sisters section as 19.4 miles with 4919ft ascent and 4987ft descent. A "good climb up to Mission Mountain. Trail becomes faint and disappears for a while here, so pay attention to course markings! Lots of overgrown blueberry plants and brush growing into the trail. Bushwhacking, tree hurdling, exposure and lots of technical make this section notorious and especially tough. Incredible views along the way. After Monument Rock, the trail becomes a Bigfoot Game Trail. Stay positive and don't let the downed logs and rough trail mess with your spirits. Cool off in Saint John and Jackpot Lake. After Jackpot Lake, trail improves dramatically into Twin Sisters. You'll take a 2.7 mile out and back to Twin Sisters Aid at mile 16.7."
Another way I heard this section described is a "shit-show". At least that it how it was described by one of the runners at the AS; someone who had run the course last year. I started preparing myself for a 19.4-mile shit-show and went to wake our runner.
"Wake up sleepyhead", I whispered into our runner's ear in order to wake him in a caring and compassionate fashion. WAIT, that is not the way it went! Oh yeah, "Wake up and let's get the shit-show done" was the exact wording. Our runner only had 49 miles to go so it was time to get moving.
I made my runner and myself a good strong coffee to propel us along our way and I went to find Carol so that I could give her the crewing suitcase. As I walked down the road, I did not see Dory and kept walking well past our original parking spot. This is where you are supposed to earn your keep as an experienced pacer/crew member and think outside of the box, "what do I do"? Yet the only solution I could think of was, "I guess our runner is done and I guess we all need to go get some sleep and some food". Of course we kept at it and I eventually took the stuff to the AS captain. It was my hope that either Carol would come back for it or it would get back to the finish line with drop bags.
Our sleepyhead and I took off on the shit-show trail at approximately 3 am and we were both in good spirits. When we left, I was leading our runner who was close behind – no PPP today bub! It wasn't long before we came upon a runner standing alone in the trail. It wasn't just any runner but we were again in the presence of NSA – No Sleep Aaron. NSA said something like, "do you think that the aid station put these trash bags on the ground to keep us from going off of the trail." He then said something like "it is hard to follow the trail with all of these forest creatures all over the place." At this point it did not seem like the "no sleep" method was working that well. Our runner was apathetic and urged NSA to return to the AS for a little sleep but NSA would have none of that. NSA followed us for a short period of time but we quickly left him behind and that is the last time we would see him (yes, he did eventually finish the race and please don't be critical of us for leaving him out in the wilderness alone with all of the forest creatures).
We moved swiftly through the forest and I do not remember this part of the trail being difficult. After following the faint but well-marked trail we came to marshy and overgrown section where there was no distinguishable trail but the many reflective markers guided us effortlessly forward. As sunrise approached, we started a long gradual climb and we were quickly rewarded with some expansive and spectacular views on the top of a ridge. After some photos we were off and we quickly dropped down off of the ridge and then the bugs started their morning ritual of feeding off our blood. As two runners passed us, I noticed that they were using buff extended from their necks over their heads to protect themselves from biting insects. I had a buff and quickly put it on my head to replicate the idea and it worked very effectively. As passed by Saint John Lake I saw that that our "buffed" runners were filtering water for their bladders and I quickly questioned whether or not we should do the same thing. We each started the section with 2 liters and that should be enough for this 20-miles section – what did they know that I was missing. I made sure that our runner was still good with water and we pressed on.
The trail was of course tough but I can't really classify any of it as a shit-show. In fact, trail work had recently been accomplished as we approached the out and back part to the Twin Sisters AS where we arrived at approximately 11 am on Tuesday morning. It had taken us 8 hours to complete this 20-miles section and we were relieved to have the worst part of the course behind us; or so we thought?
Carol already explained her faux pas with our runner's crewing suitcase so when we greeted her at the AS, we all shared a good laugh as nothing critical should be needed for the rest of the day. Our runner was left with a 50K before him and our spirits were high. During the night we had decided that I would pace our runner on the next section 16-mile section from Twin Sisters to Owen's Creek. With only 2592 ft of ascent and 4760 ft of descent I was looking forward to finally being able to enjoy some easier trail. The manual describes this section as, 'climb back up to the No.7 Klickitat Trail from Twin Sisters Aid on the 2.7 mile out-and-back, mostly uphill, sometimes steeply until you get to the Klickitat/no 7 trail. Enjoy incredible ridge views on a mostly descending section. Mandatory out-and-back to Pompey Peak (0.2 mi one way). Trail becomes overgrown with downed trees about 2 miles before Pompey Peak and afterward as well. Near the end of this section, the trail will widen into what was once a road. Cross a couple washes then you are at Owen's Creek Aid."
Guess I should have actually read the description before I ventured out as there would be nothing easy about the trek to Owen's Creek. We each wolfed down a cheeseburger, I sprayed myself down with Deet, we said our goodbyes to Carol and at 11:15 am we headed off to Owen's Creek.
From the inbound leg to the AS we knew we had a tough 2.7 mile climb out to rejoin the Klickitat Trail. From there the trail was easy to follow and continued with a gradual climb. Our runner was not necessarily slowing down but the extreme fatigue presented concern as there were several exposed sections across scree fields where the going was definitely slow. To assure my runner that I was NOT a PPP, I often hiked below him to stop him in case of a fall.
The trail became more normal shortly thereafter and at around 1:30 pm we made the out and back to Pompei Peak. Our runner took a short sit and I took some amazing photos afforded by a 360-degree view. This was the first time in many days that I had cell coverage and I quickly posted a photo and update on Facebook to our Prescott Area Trail Runner community. I knew that if my runner continued at his current pace, he would be finishing his adventure later that day.
The next few miles were downhill but still very slow going due to all of the large, downed trees. It took us approximately 1 hour to traverse the obstacle course of trees but it was really starting to get hot. We had arrived at a section of trail that appeared to be an extremely overgrown old road. Our runner was able to accomplish a pretty quick pace utilizing the run-hike-run-hike-run method employed at the end of an ultra. We rounded a corner and the sound of water caught our attention. There was a small waterfall just off of the trail to our left, and after a little head soaking for both of us, we trapsed off the last mile or so to the next AS.
We arrived at the Owen's Creek AS to greet Carol around 4:30 pm – only a half marathon to go for our runner.
The other runners at Owen's all seemed to planning long breaks but our runner would have none of that - he was ready to "get er' done"! Carol would be running her own 100 miler 10 days later and her trainer cautioned her on excessive mileage. I guess Carol didn't listen because she agreed that pacing our runner on the last section would be OK. He would be tired and probably wouldn't be running anyways… we were wrong!
(Carol jumps in here not only pacing but also offering the play by play…)
Noel and Our Runner came into the last aid station looking a little worse for the wear, but very upbeat. Our Runner was clearly ready to finish this thing! After a very short break to refuel and ensure he had water, we took off at a solid clip out of the aid station ahead of several runners who had come in before him. The first few miles were on a dirt road–runnable (i.e. not super steep, and comparatively "smooth") and shady … we made really good time, Our Runner could clearly smell the finish line! Once we got off the dirt road onto the pavement, we also left most of the shade, and it was hot. Our Runner slowed a bit (thank goodness—I was getting worried that I was going to have to run the entire 13 miles at that pace!) as the reality of 8 more miles of heat and hills (though nothing compared to what he had already run) sunk in.
My job as the pacer was to keep Our Runner motivated and moving. Our Runner didn't need much motivation … even though he wasn't able to run/walk quite as fast, he was quickly shifted mindset and decided on a strategy of running to the next shade, and then walking through the shade. This is a common—and effective—strategy at the end of ultras to break the race down to smaller, more manageable chunks.
Due to the heat (nearly 100 degrees), the race director had added a water-only stop about halfway to the finish line. That water stop became our focal point once we hit the pavement. So much so that Our Runner began hallucinating about it. "Oh look, I think those are blue water jugs up there." "Umm … no … that's a mailbox." "I think I see something up there." "Yeah—that's a tree." Just when we had given up, a table with jugs of water (yes some of them were blue) came in to sight up ahead. By this time Our Runner had begun to doubt his own eyes enough that he had to ask if I also saw a table with jugs of water.
After a brief stop to chug some cool (ish) water and douse our hats, we hit the road again. From this point, I had to start earning my keep as a pacer … I started running slightly ahead and picking out landmarks. We began running "to the third telephone pole ahead" and "to that next curve in the road." FINALLY we saw town of Randall up ahead and knew we were really close. Our Runner's mood improved greatly up and our running stints started to pick up. Soon we could hear the finish line and Noel's shouts. 209 gnarly freaking miles almost done. It's hard to describe the pride and excitement I felt for Our Runner as he rounded the corner into the school complex for his final lap around the track. It was an amazing accomplishment and getting to be a part of it was just awesome.
(Back to Noel…)
Our runner ended up running the last section in about 2 hours and 30 minutes. I drove to the finish line at Randle High School to cheer on the incoming finishers and wait for our team. The finish line is so emotional at these races and I was at the finish line cheering for every runner that arrived. I finally saw Carol and our runner on the street and ran to greet, film, and cheer them on.
Our runner persevered across 209 miles of gnarly Washington trail and crossed the finish line of the Bigfoot 200 Endurance Race in an elapsed time 82 hours, 36 minutes and 5 seconds. He finished 27th overall out of a starting field of 211.
What an adventure - right on James!